14B NCAC 16 .0405          private investigator's use of a badge
While engaged in their official duties, a private investigator shall be allowed to carry, possess, and display a badge that has been approved by the Board, the North Carolina Sheriffs' Association, and the North Carolina Association of Chiefs of Police.  The badge shall be a duplicate as shown below except for the licensee's name and license number.  The badge shall be gold with dark blue lettering.  Any deviation from the below design shall be deemed an unauthorized badge and shall constitute a violation of the statute and rules.  The badge shall be displayed in a folding pocket case with the badge displayed on one side of the case and the Private Investigator's pocket credential, that is issued by the Board, displayed on the opposite side of the case.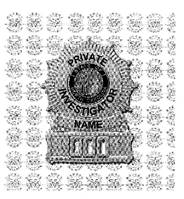 History Note:        Authority G.S. 74C-5(12);
Eff. May 1, 2010;
Transferred and Recodified from 12 NCAC 07D .0405 Eff. July 1, 2015.